H.R.H. The Princess Mother Cremation Ceremony (1996) ●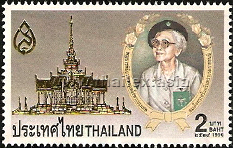 Issue Name:
H.R.H. The Princess Mother Cremation Ceremony
Thai Issue Name:

พระ

ราชพิธีถวายพระเพลิงพระบรมศพ สมเด็จพระศรีนครินทราบรมราชชนนี (สมเด็จย่า)
Issue Date:
1996/2539-03-10
Cause:
To commemorate the Cremation Ceremony for the Princess Mother, held at Sanam Luang (fig.) in Bangkok on 10 March 1996.
Catalogue Number:
1996/11
Denomination:
2 Baht
Unused Value:
16 Baht
Used Value:
6 Baht
Thailex Collection:
Unused stamp
Size:
27 x 45 mm
Quantity of Stamps:
5,000,000 pieces
Printer:
Thai

British S

ecurity Printing Public Company Limited, Thailand
Subject:
Portrait of Somdet Phra Sri Nagarindra Boromma Raja Channanie in the uniform of the Princess Mother's Voluntary Flying Doctors Foundation, which she established. The portrait is framed by a banner that bears the Princess' full name and royal title and which at the top ends in roses, referring to her passion for flowers (fig.). In gold, to the left, are her Royal Cypher (fig.) and a crematorium, known as Phra Meru.
Related Link:
Sri Nagarindra, Somdet Phra Boromma Raja Channanie, Somdet, Phra, Borom, Raja, Channanie, Bangkok

,

Sanam Luang, Meru.