Red Cross Fair (2002) ●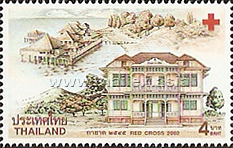 Issue Name:
Red Cross Fair 2002
Thai Issue Name:

งานกาชาด

2545
Issue Date:
2002/2545-02-17
Cause:
To commemorate the Thai Red Cross Fair 2002
Catalogue Number:
2002/3
Denomination:
4 Baht
Unused Value:
7 Baht
Used Value:
4 Baht
Thailex Collection:
Unused stamp
Size:
27 x 45 mm
Quantity of Stamps:
1,000,000 pieces
Printer:
Thai British Security Printing Public Company Limited, Thailand
Subject:
The Phra Phanwassah Building at today's Somdet Phra Boromma Racha Thewih Na Sri Racha (สมเด็จพระบรมราชเทวี ณ ศรีราชา) Hospital in Chonburi Province, which is named after Queen Sawang Watthana, a consort of King Chulalongkorn, who was also known as Phra Phanwassah Ayyikah Chao (พระพันวัสสาอัยยิกาเจ้า). In the background is the Queen's Housing Resort (fig.), built on stilts in the sea, and known in Thai as Reuan Nai Thalae (เรือนในทะเล), i.e. 'Dwelling in the Sea'.

The loss of several of her children in a short period of time was so devastating to the Queen and her grief was so intense, that her health began to deteriorate. Hence, the King permitted her to move away from the capital and stay at the seaside town of Sri Racha, in order to recuperate. Here, she soon realised the need for hospitals and doctors, and consequently had the hospital built, of which construction was finished in

1902

.

Related Link:
Thai Red Cross Society, Chao, Somdet, Phra, Borom, Racha, Chonburi, Sawang Watthana, Sri Savarindira, Chulalongkorn, Rama V, Siriraj Hospital.