Rose Postage Stamp (2006) ●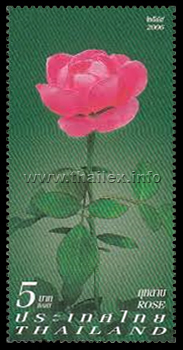 Issue Name:
Rose 2006
Thai Issue Name:
ดอกกุหลาบ พ.ศ. 2549
Issue Date:
2006/2549-02-07
Cause:
To publicize roses and promote philatelic activities
Catalogue Number:
2006/7
Denomination:
5 Baht
Unused Value:
8 Baht
Used Value:
4 Baht
Thailex Collection:
Unused stamp
Size:
62 x 31 mm
Quantity of Stamps:
1,000,000 pieces per design
Printer:
Thai British Security Printing Public Company Limited, Thailand
Subject:
A pink Rose, known in Thailand as the Chulalongkorn Rose, named after King Rama V, who was born on a Tuesday, that has pink as it colour in the sih prajam wan system. It was named dok kulaab Chulachomklao by the King's royal consort Princess Dara Radsami

, who

cultivated

these thorn-free pink roses in the garden of her palace in

Chiang Mai's

Mae Rim District

. Internationally, it is also known as the Rose of Siam.
Related Link:
kulaab, dok, Chulalongkorn, Chulachomklao, Rama V, sih prajam wan, Dara Radsami, Chiang Mai, Siam.